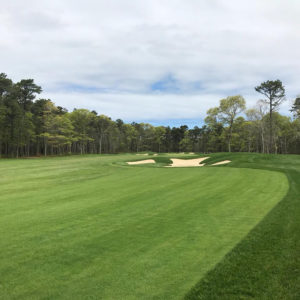 With a variety of 27 public and 15 private courses to choose from, golf is the best reason to visit Cape Cod this summer, especially since New England hasn't had any picture-perfect beach days the Cape Cod Chamber likes to promote.
  Some of the most widely renowned golf course architects have had a hand in sculpting Cape Cod's golf landscape, including Bayberry Hills Golf Course in Yarmouth, Bass River Golf Course in Yarmouth, The Cape Club in Falmouth, Blue Rock Golf Course in Yarmouth, The Captains Golf Course (Starboard & Port) in Brewster, Dennis Pines and Dennis Highlands Golf Courses in Dennis, Miacomet Golf Course on Nantucket and Ocean Edge Golf Club & Resort in Brewster.
  So, golf aficionados will be thrilled to know that Bayberry Hills GC, designed by the Geoffrey Cornish/Brian Silva team in 1988, just spent two-years and $2 million to renovate the property and the results are absolutely amazing.
  The municipal course, owned by the Town of Yarmouth, engaged the services of Rhode Island-based Tim Gerrish, a former member of the Cornish/Silva team, to renovate the par-72, nearly 7,300-yard course, making it friendlier to the average golfer while enhancing the challenge to the low handicapper.
  "This project was a two-year effort with a budget of $2 million and we are delighted by how well the course improvements came out," said Director of Golf Operations Jim Armentrout, at a ribbon-cutting, grand-reopening ceremony held over Memorial Day weekend. "Some bunkers have been replaced with collection areas, many fairways have been widened and we cut down 3,000 trees that will definitely enhance the golfing experience for every player."
  "We are inviting golfers to book a tee time at Bayberry Hills and to play a championship golf course, not just a course that calls itself a championship course," added Armentrout, who was involved in the daily effort to make sure the project was completed on-time and under the $2 million budget. 
  Another noticeable improvement was the golf cart path system was totally revised and newly-paved which eliminates wear and tear near the tee boxes and fairways. You are now forced to drive 50 to 100 yards down the cart path before entering the fairway.
   "Bayberry Hills already had a reputation as a must-play course but I never dreamed we would see Bayberry Hills turn into one of the best municipal facilities in the Northeast," said Bob Quirk, a PGA Master Club Fitter and former Cape Cod teacher of the year." Visit: GolfYarmouthCapeCod.com