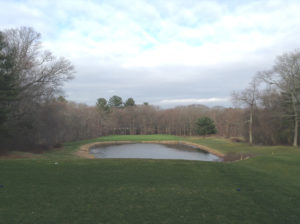 The next time you attend a PGA TOUR event be sure to stop by the practice range. It is always fun to watch the big guys crush some towering drives, and fantasize about doing the same at your home course. Yet if you want to pick up some tips that can have an immediate effect on your golf game, study the pros when they fine-tune their short games. All the pros can hit drives over 300 yards but they know that the key to winning a championship is excelling at the short game.
The perfect location to have fun and develop your short game is at the Back Nine Club in Lakeville, Mass. The Back Nine Club is an 18 hole par 54 championship course that is truly perfect for all golfers no matter what your handicap may be. Now juniors, seniors, women and new golfers can play the same course. Large greens provide a generous target for your tee shots and since this is a par -3 course it is an easy walk for all. But if you need a little assistance motorized golf carts are available for rental.
This course is very fair, but this is not a pitch and putt course. There are water hazards and large bunkers providing some excitement while still remaining very playable for everybody. PGA pro Bob Giusti, who comes to the Back Nine Club after serving as the head pro at Halifax Country Club for 22 years, has created another feature to make this club truly unique. On six of the 18 holes a new set of gold tees are available if you want to intensify the challenge. With these new tee boxes the course is turned into a par 60. Five of the new holes will play over 200 yards making it easier for golfers to reach some par-4's in two and maybe even scoring a birdie or two.
"We want to make our course fun for everyone and give all of our players options" said Giusti. "Par fours don't have to be 450 yards." Not only is the course accommodating for all golfers, but it is the perfect destination for golfers who are short on time. Bob feels that most golfers can play the course in three hours. So if you want to get a quick round in early in the day, or a twilight round after a hard day at the office, the Back Nine is for you.
A great deal of work has been done on the Back Nine Club. Hundreds of trees have been removed to make the fairways a little easier to hit. The upgrades are not restricted to the course. The pro shop is twice the size of the old one with a large selection of clothing and equipment. Next to the pro shop is the newly refurbished lounge. The space is roomy and there is a total of 9 large screen TV's. The Back Nine has hired a new executive chef who worked at Franklin Country Club and now is ready to serve a variety of delicious dishes.
If you enjoy tournaments there are plenty of opportunities for all golfers. There are also events for the junior golfer and summer clinics. One of Bob's favorite events is the Folds of Honor BNC Patriot Day scramble for August 4. This tournament is sponsored to provide funds for the Folds of Honor organization, a foundation that provides educational scholarships for spouses and children of American fallen and disabled service members. Last year Bob and his crew raised $8,000.00. Is there a more deserving foundation? Call Bob at (508) 447-9991 and sign up for the scramble and make a donation to our service members who give so much. See the web site at www.backnineclub.com for more information.
We have a sad announcement to make to all of our readers. Mark Petrucci, a co-manager and PGA golf pro working out of Joe and Leigh's Discount Golf Shop and Pine Oaks Golf Club died recently at the young age of 47. He is survived by his wife, Chrissy, and children, Thomas, Claudia and Vanessa. Mark had worked at Joe and Leigh's for 30 years and was one of the pillars of the golf industry in our area.
We have lost one of the golf courses in the area when Locust Valley G.C. in Attleboro closed its doors last fall.