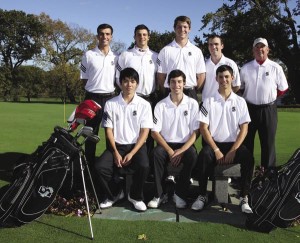 The Brown University Men's Golf Team has been named Academic National Champions for NCAA Division 1. The Bruins posted the highest overall team GPA for all divisions with a 3.74.
"All the credit goes to the players" said Brown Head Coach Michael Hughes. "We put a great deal of emphasis on academics; to carry an Ivy League course load while competing is tough."
Brown has been runner up the previous four years. A total of 143 teams submitted GPA's of 3.0 or better to earn All- American Academic team recognition. Among the teams Brown bested were DePaul, Harvard, Stamford, William and Mary and Yale. The 2013 Awards were sponsored by Farmers Insurance, a corporate member of the GCAA.
Brown team members included: J D Ardell, Peter Callas, Nelson Hargrove, Kyohei Itamura, Justin Miller, Jack Mylott, Christopher Williams and Jack Wilson. The Bruins have been close to the championship for the past four years only to be edged out by DePaul University. The Blue Demons seemed to have a stranglehold on the trophy until this year.
Coach Hughes summed it up very nicely when he commented, "this lends credibility that if you recruit good, quality young men your program will be rewarded."
Our Top 10 New England Picks for the 2014 Golf Season
1. Yale
Coach Colin Sheehan says, "The Yale golf team doesn't rebuild, it reloads." Great recruiting makes them the team to beat!
2. Hartford
A combination of returning veterans and talented newcomers lead Coach Pete Stankevic's Hawks.
3. Boston College
Coach Drew Kayer and his super recruiter Bill Poutre have assembled a talented group of golfers for the upcoming campaign.
4. Connecticut 
The Huskies feel that being part of the American Athletic Conference will help in the future for recruiting and scheduling. Some people think the future is now for Coach Dave Pezzino.
5. University of Rhode Island 
Coach Gregg Burke says, "We will be very young but we will be exciting." The Rams had a great recruiting year and could be the surprise team of the area.
6. Harvard 
The Crimson continue their solid play as Coach Kevin Rhoads welcomes three newcomers.
7. Brown 
Not only are they smart, they can play! Coach Mike Hughes' team is young talented and they continue to improve.
8. Dartmouth 
Rich Parker's Big Green could be the most improved team of the region with their balance of veterans and rookies.
9. Central Connecticut State University
Kevi Giancola lost some key players but weep not for the Blue Devils as they will be strong again this year.
10. Sacred Heart 
Coach Mat McGrevery was hit hard by graduation, but will welcome a solid group of new players.