Rhode Island Country Club Signs 3-Year Deal to Extend Tournament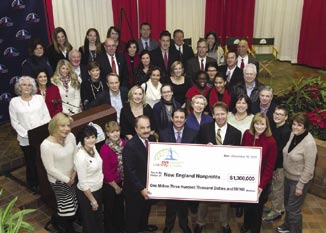 Christmas came early to the 81 area nonprofit organizations that received checks from the CVS Caremark Charity Classic on December 19 at the company's headquarters in Woonsocket. The check presentation was the result of the Charity Classic that was held in June at Rhode Island Country Club with 20 of the top golfers in the world.
"This is one of my favorite days of the year," said CVS Caremark President and CEO Larry Merlo as he displayed the huge check with $1.3 million written on the it as he stood alongside Brad Faxon and Billy Andrade who have hosted the event since its beginning 15 year ago. The total raised for organizations during those 15 years has now surpassed $17 million and is by far the largest Rhode Island charitable sporting event.
"We are in the top 30 percent of charitable donations from a golf event in the country each year, and we do it with a two-day event and one-day pro-am," said Faxon with a huge smile. "Who would have ever thought this event would still be going strong after 15 years," said co-host Andrade.
"Giving back to our local communities and supporting organizations that help children and families in need is at the heart of the Charity Classic, said Eileen Howard Boone, Tournament Chairwoman. "By combining world-class entertainment with financial support to important non-profit organizations in our community, the Charity Classic has become a truly special event for the golfers and our non-profit partners," she added.
"Many of our non-profits assist us in providing over 1,000 volunteers for our tournament, and we couldn't run it without them," commented Merlo as he shook hands with many of the representatives of the organizations and students from Highlander Charter School, a check recipient, who came to the presentation ceremony and spoke of how the donations have helped their school over the years.
Another announcement that was made during the presentation ceremony was the CVS Caremark Charity Classic had just signed a contract with Rhode Island Country Club to hold the event for another three years. "Everyone is still on board with this tournament; our suppliers, our sponsors and the fans, and we owe a great thank you to RICC President Rick Powers and his board and members at RICC to agree to host the event," said Merlo. Added Faxon after the ceremony, "The players and their families love coming to Rhode Island Country Club. It is truly the best place to host this event and the members have been wonderful,"
Rick Powers and Tom Hall, who will be replacing Powers as President in May, spoke about how the 15-member board and members have always supported the event and look forward to it each year. "The CVS Caremark Charity Classic is such a wonderful event that provides so much to our area, and we are very proud to host it," said Powers.