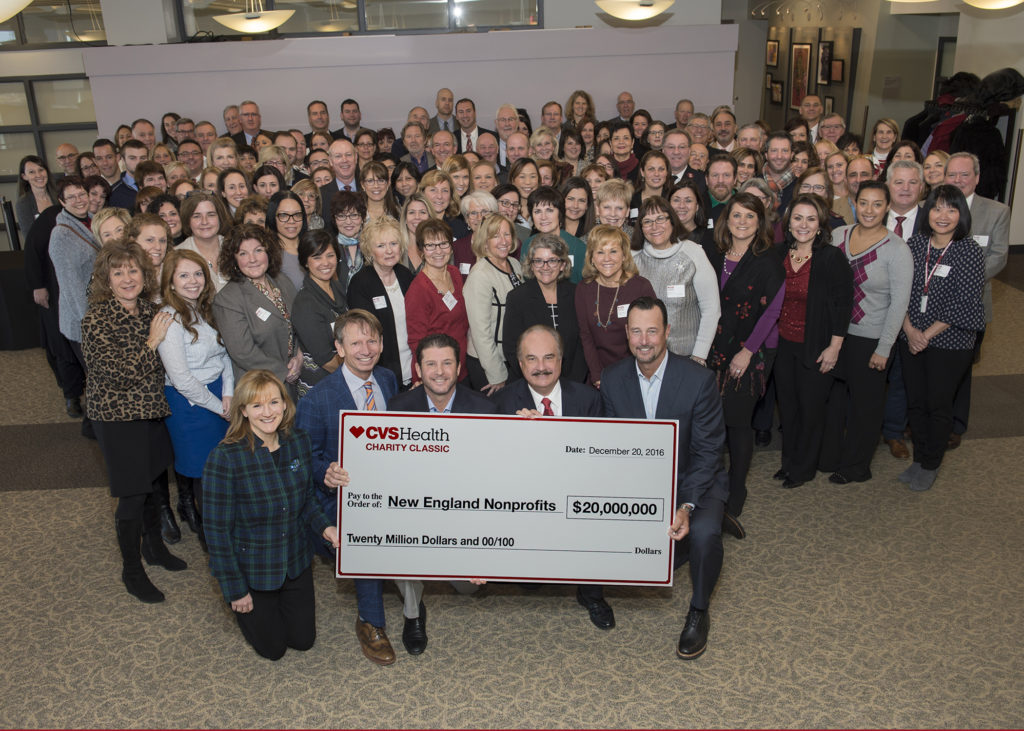 On December 23 at the corporate headquarters of CVS Health, President and CEO Larry Merlo announced that the CVS Health Charity Classic has reached an important milestone – a total of $20 million dollars in philanthropic support to hundreds of nonprofits in southeastern New England since the tournament's inception in 1999. This year, the CVS Health Charity Classic donated more than $1 million dollars to nearly 100 area charities.
"The CVS Health Charity Classic has an 18-year history of supporting the meaningful work being done by nonprofits in southeastern Massachusetts and Rhode Island," Merlo said. "We are proud to reach this major milestone in donations made that enables us to give back to those who need it most in the areas of health care, education and social services."
Merlo – along with tournament chairperson Eileen Howard Boone and PGA Tour professionals and CVS Health Charity Classic co-chairs Billy Andrade and Brad Faxon – unveiled this year's donation to the nonprofit recipients and working charities that volunteered their time during the tournament in front of CVS Health colleagues and CVS Health Charity Classic sponsors. "We had over 1,000 volunteers from our area charities serving at this year's event, and they are the real reason that it runs so smoothly," added Merlo.
Tim Wakefield, former Boston Red Sox pitcher, was on-hand to discuss how the tournament has supported the Boston Red Sox Foundation over the years. "Support from the CVS Health Charity Classic has been instrumental in allowing us to fulfill our mission of serving the health, education, recreation and social service needs of children and families across New England," Wakefield said. "We are grateful for our partnership and look forward to continuing to work together in the future."
In addition to the Boston Red Sox Foundation, 90 nonprofits from Rhode Island and southeastern Massachusetts will also benefit from the CVS Health Charity Classic.
Brad Faxon and Billy Andrade, natives from Rhode Island who have been with the event since its inception and the reasons why so many great players have participated in this wonderful local event that has done so much to help local charities both spoke. "I've played in many charity tournaments like this, but our little state is kicking butt with how much money we have been able to raise over the years," said a smiling Faxon.
Billy Andrade said, "I can't believe how fast the time has gone since our first event in 1999. Seeing how much we have been able to do makes us all so proud."
The 2017 dates were also announced by Merlo. "We will be hosting the event at Rhode Island Country Club, one of our great partners since the inception, on June 18, 19 and 20."