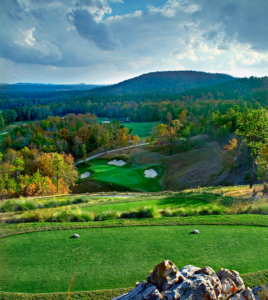 This past June we ventured down south to Alabama to watch the
U.S. Women's Open and play golf for a week. In the June issue we
wrote about the excellent golf in the southernmost part of Alabama–
Gulf Shores, the August issue featured the Robert Trent Jones Trail
and the beautiful hotels at a few of those courses, and this month we
are featuring a truly special course—FarmLinks at Pursell Farms.
Pursell Farms Resort is a 3,200-acre pristine property on rolling
hills just southeast of Birmingham. What makes the course unique is that it is the world's first "research and demonstration" golf course.
The facility was built to experiment with and showcase golf course
machinery, irrigation systems, different types of fertilizer and lastly different types of grasses found on golf courses. We were told that
one of the holes has five different types of grasses!
The Pursell family founded Sylacauga Fertilizer in 1904. In the
1970's a new slow-release fertilizer was created by the National
Fertilizer Development Center in Tennessee, and Jimmy Pursell was
quick to see advantages and improvements of this product. His plant
started production and distribution of this new fertilizer in 1985.
Rather than send sales people across the nation to visit farmers and
especially golf course superintendents to convince them to use this
new fertilizer, the Pursells built a golf course in 2003. Why not have
people come to Alabama to see how successful this new product was
on a golf course?
They hired the team of Michael Hurdzan and Dana Fry (who
designed Shelter Harbor in Westerly, RI) who had just built the
environmentally sensitive Erin Hills in Wisconsin. Over the years
they hosted some 10,000 golf course superintendents and other
buyers.
In 2016 they sold the fertilizer company to a Canadian firm for a
near nine-figure price. But what to do about this "research and
demonstration" course? It had been rated Number One in Alabama
by Golfweek, GOLF Magazine had rated it Number 3 "Best Courses
You Can Play" in Alabama in 2017 and GolfAdvisor had it ranked
second best overall in the state and seventh in the entire country.
The Pursell family decided to build an upscale resort for not only
golfers, but also people who want to get away, relax and enjoy the
outdoors. There is now The Inn at Pursell Farms that offers 40 well-
appointed rooms. In addition, they built cabins and cottages that are
great for golf groups. Right behind them is a huge putting and
chipping course.
Another option for accommodations on property is the Orvis
Farmhouse built in 1830. It has been meticulously restored and
appointed with 19 th century antiques. There is a full kitchen, dining
room, living room and three guestrooms.
Old Tom's Pub is located within the Inn. It has a pool table that
belonged to Jim Nabors, a good friend of Jimmy Pursell. There is
another restaurant and folks staying in the cabins can even have a
chef come over to cook for you.
Another feature of the property is the Orvis owned and operated
sporting facility. You can hunt quail, duck, dove and pheasant as well
as fishing for bass in five stocked lakes. There's a sporting clays
course along with fly-fishing instruction.
There are biking and walking trails that meander through the
property. Also available is the UTV Mountain Experience using John
Deere Gators to explore trails and ride up to Sulfur Mountain.
Back to the course. FarmLinks sits at the base of the foothills of
the Appalachian Mountains, and you feel like you go up to the top of
the mountain when you play the par 3 fifth hole. The drop to the
green is well over 100 feet and the ball seems to hang in the air for
about two minutes.
The course is pristine. It can measure 7,444 from the tips, but with
five sets of tees everyone can find their correct length. The 17 th is a
downhill par 3 over a pond, and the long par 5 18 th will win or lose
many matches.
The course is well bunkered, the greens are very large and the
routing is fair. The toughest hole is the par 4 fourth hole. You need a
good drive to carry the huge ditch about fifty yards from the green.
Pursell Farms Resort's great offerings and Southern hospitality
make it a fine destination. It is 45 miles from Birmingham, 150 miles
from Atlanta and 240 miles from Nashville. It is worth the trip.
Bruce Vittner is a member of the Golf Writers Assn. of America, the Golf
Travel Writers of America and can be reached at bruce@snegolfer.flywheelsites.com.