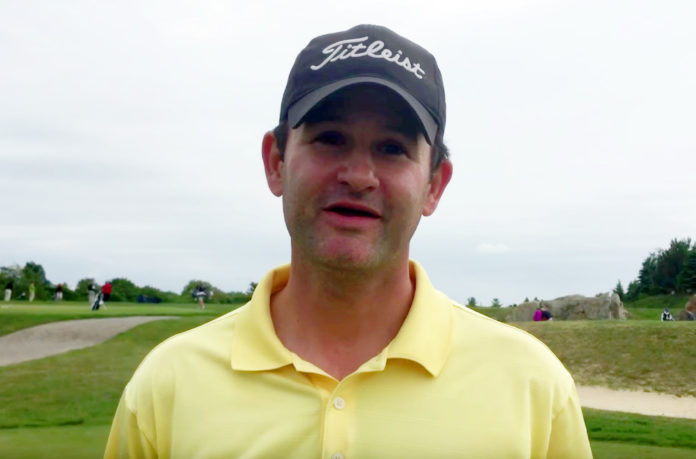 Kyle Gallo has achieved on many levels in Connecticut golf, especially winning a record-tying Connecticut Open titles. So it's no surprise that Gallo was inducted into the Connecticut Golf Hall of Fame at the Connecticut State Golf Association at the organization's annual meeting and Hall of Fame inductions ceremony Dec. 5 at 5 p.m. at Torrington Country Club.
"To me, golf is something I'll do, health permitting, until I die," said Gallo, who shares the Connecti- cut Open wins record with John Golden. "You can compete in golf forever."
Gallo, 43, is no longer competing full-time after winning the Connecticut Open in 1998, 2000, 2004 and 2010, being runner-up five times and sharing the tournament scoring record – 200 at the Country Club of Fairfield in 2000. He also won the 1999 Maine Open, 2004 Providence Open, 2005 and 2010 Manchester Open, 2009 and 2014 Cape Cod Open, 2011 Massachusetts Open and 2013 New England Open.
During his professional career, Gallo spent time on the Nationwide (now Korn Ferry Tour) in 2005 and 2006, played on several mini-tours and narrowly failed to qualify for the PGA Tour three times. He played at Central Connecticut State Univesity from 1993-95 and 1997-98, was a three-time All-New England selection and named CCSU Male Athlete of the Year in 1998. He also spent one season at the University of Texas El Paso (1195-96), where he was a First-Team Western Athletic Conference selection. He became the only player to win the Connecticut Open and CSGA Public Links Championship in the same year (1998), was runner-up in the CSGA Amateur Championship, was named the 1997 Connecticut Golf Association Player of the Year and qualified for the U.S. Amateur in 1995, 1997 and 1998.
At Berlin High School, Gallo had an astonishing 102-13-6 record in match play and was the state champion, co-champion and runner-up in the CSGA Junior Amateur Championship. A native of Kensington, Gallo was named to the Berlin High Hall of Fame and graduated in 1993 after being named All-Conference four times and leading the Redcoats to the Northwest Conference title in 1991 and 1993. A two-time team captain, he was a three-time All-State selection and two-time All-New England pick and made the CSGA New England Junior Championship team twice before graduating from CCSU in 1998.
In 2015, Gallo decided it was time to give back for the admittedly "selfish" life that he had to lead to compete. He became head coach at his alma mater on Aug. 10 and led the Blue Devils to their first Northeast Conference title in 13 years. Unfortunately, CCSU suddenly ended its golf program, which had been so successful in New England for several decades, for political and financial reasons. "It was heartbreaking," Gallo said.
Gallo coached at Western New En- gland University for one year and is now weighing another opportunity. "It gives me even more satisfaction than playing honestly," Gallo said. Might the PGA Tour Champions be in his future? "I won't put a timeline on golf," Gallo said. "I feel good. I always compete to win, and I'll tee it up with anybody. A PGA Tour pro even. Just give me a couple of weeks to practice."
Gallo learned to play the game at Timberlin Golf Course in Berlin, where Chuck Lasher and Lindsey Hansen worked together for 17 years. Ironically, Lasher and Hansen will be inducted into the Connecti- cut Section PGA Hall of Fame on Nov. 24 at Lake of Isles in North Stonington.
The Connecticut Golf Hall of Fame was established in 1955 by the Greater Hartford Jaycees, who founded the Greater Hartford Open, now the Travelers Championship, to acknowledge outstanding players and significant contributors to the game. In 1991, the CSGA assumed stewardship of the Hall of Fame with the dedicated intention of carrying on the successful selection process exercised by the Jaycees. Led by World Golf Hall of Fame members Gene Sarazen and Julius Boros, the Connecticut shrine boasts 21 major championship titles: six U.S. Opens, five PGA Championships, three national PGA Senior PGAs, two Masters, two British Amateurs, two U.S. Women's Amateurs and one British Open.