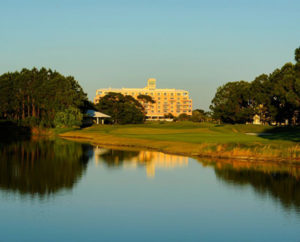 If you are like this New Englander, you probably don't know very much about Gulf
Shores, Alabama. "Mistake, Big Mistake," as Julia Roberts would say.
On our recent trip, organized by Alabama Tourism, we flew into Birmingham, saw the
U.S. Women's Open (see story on page 32) and then ventured south. We had traveled to
Alabama about 10 years ago and were impressed by the courses we played on the Robert
Trent Jones Trail. We got as far south as Mobile, but no further.
This year we ventured all the way to the southern tip of Alabama at Gulf Shores. If you look at a map you see this little spit of land that juts westerly out into the Gulf of Mexico with Mobile Bay off to the north.
What a pretty area. It reminds this reporter of Myrtle Beach in many ways. Not as many
courses, but some very good quality tracks. It seems that wherever there is a beautiful
beach there is a group of high-rise building.
We stayed at one of the large properties (pictured in this story) on the 10 th floor of
Building C (they have four) of The Beach Club Gulf Shores. Watching the pelicans and
other sea birds fly by our balcony was almost as much fun as playing golf.
This resort has dozens of amenities for the whole family. They have indoor and outdoor
pools and a children's pool. There are tennis courts, eight lighted Rubico courts, two
basketball courts and a shuffleboard court.
Our group had dinner at the Coast Restaurant on property. What a treat. We dined on
local shrimp, grouper, red snapper, mahi-mahi and other local specials. One member had
the steak and said it was delicious. The Beach Club also has a Gulfside bar and grill and
there is casual dining, a ice cream shop and the Village Lawn has casual dining and
drinks with a giant screen for movies.
There is a full-service salon and spa, arcade and a mercantile shop. You can get more
information at spectrumresorts.com or calling 855-762-6875.
A great part of staying at the Beach Club was that is was less that a mile to two of the
better courses this writer has played. We first ventured to Kiva Dunes Golf and Beach
Resort. Designed by Jim Edgemon and former PGA Tour player Jerry Pate in 1995, the
course is always rated in the top three of "Courses you can play" in Alabama. "We are
also rated 4 th by Golf Advisor for courses you can play in the United States," said a proud
Mark Stillings, general manager of the property.
Kiva is an Indian word for fair, beautiful and gentle. The first two words definitely
apply to the course, but you better keep it pretty straight if you want it to be gentle, as
most holes have water or marshy areas for those errant shots.
We played soon after the course had been aerified. The starter said that we were lucky
because the greens are always fast and hard. It is very much a second shot course. The
greens are large and undulating, so you need to hit it to the proper places.
Hole number 9 is the most difficult. Probably why the gator hangs out at that hole. His
waterhole serves as a huge hazard for second shots trying to reach the long and narrow
green.
A unique feature of the course is that the same waterway is left of the fairway on holes
12, 13, 16 and the very tough from the back tees par 3 17th. The course can measure to
over 7,100 yards but you are better off to move up.
"We have six million visitors to the Gulf Shores and Orange Beach area every year, so
we want to provide them with many different types of accommodations," said Stillings.
We saw some of the two and three bedroom units above the clubhouse, and they also own
the Villas building pictured in the story. "We have from one to ten bedroom rentals and
some of them are right on the Gulf," he added. You can get more information about golf
at 888-TEE-KIVA or visit the website at www.kivadunes.com .
Our next stop was at the Peninsula Golf and Racquet Club. This 27-hole facility,
managed by Honours Golf, a division of Troon Golf, is a must play as the conditioning
and amenities are outstanding.
We played the Cypress and Lakes nines. When we looked at the diagrams on the
scorecard we saw blue on every hole. The excellent practice facility became a more
important part of the day, as we knew we had to hit it pretty straight.
The sixth hole on Cypress was my favorite. There is a pond that extends quite a way
out into the fairway in front of the green in this par 4. It is a true risk/reward hole. The
problem doesn't end when you get on the slippery green that slopes down to the water.
Champions Bermuda is the type of grass on all the greens that were running about 11
on the stimpmeter. There are a few par 3's over ponds, but usually the water is not close
to play.
Regional Director of Club Operations for Peninsula, Chad Leonard, told us that they
also own two other properties, Rock Creek, and 18-hole course and Craft Farms, a 36-
hole facility. All three courses are in Gulf Shores. "All of the courses are fun to play and
always in great shape," said Leonard who had dinner with us the previous evening.
Gulf Shores is a true gem. Great golf, wonderful food, Southern hospitality and all the
activities that come with being right on the Gulf of Mexico including great fishing
charters.
What a great side trip this would be for the hundreds of thousands of northeasterners
who travel to Florida each winter. "We play golf here all year," said Stillings who said
that Gulf Shore is three hours from Tallahassee and six hours from Jacksonville along
Interstate 10. "We recently completed an expressway from I-10 to Gulf Shores, so it is
only 45 minutes from Pensacola Airport and just over an hour from Mobile Airport, he
added.
Excellent golf, great food, fishing, water sports and very fair pricing make Gulf Shores,
Alabama a destination to consider. You can get more information and plan your trip at
Coastal Alabama Golf by calling 251-968-5339 or visiting www.golfgulfshores.com .
Bruce Vittner is a member of the Golf Writers Assn. of America and the Golf Travel
Writers of America and can be reached at bruce@snegolfer.flywheelsites.com