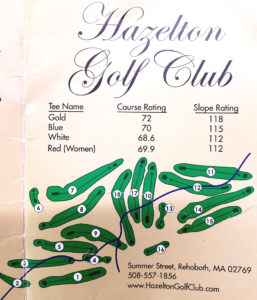 We recently played Hazelton Golf Club in Rehoboth. We had written about its resurrection in 2016, but it has taken longer than owner Joe Moniz expected to get it shipshape. Hazelton is the vision of Joe Moniz of Warren who resurrected Crestwood Country Club, also in Rehoboth, when he purchased that private course in 2012.
  "I used to play Sun Valley every week with my buddies in the 1970's and early 80's," said Moniz in a 2016 interview. "It was my favorite public course. We'd play a lot of other courses in the area, but we always made sure we played Sun Valley until it really started to go downhill," remembered Moniz who bought the property in December 2015.
  Sun Valley opened in 1959. It was designed by noted New England golf architect, Geoffrey Cornish, and was considered the public course jewel of southern New England. The course had hundreds of weeping willow trees and a brook running throughout the property. Sun Valley lost over 300 of the weeping willows during Hurricane Bob in August 2001, and that was really the death-knell that sent the course into deep decline.
  Why did Moniz want to rebuild this course that was truly in disrepair and closed? "Maybe I'm a little crazy, but I remember what good bones it had and thought that we could bring it back to its glory days," commented Moniz who has done yeoman's work in getting Crestwood back up to speed.
  Speaking with Moniz last week he said, "I've just spent $9,000 for signage, and we will have the clubhouse ready to go by the end of the year. The last part of the puzzle is to get the fairways back to ideal condition. We did a double irrigation throughout the course, and the very wet spring and now the high temperatures have made growing of the grass quite difficult. The fairways should be in top shape by the fall," said the excited Moniz.
  "We had replaced all 19 greens (the practice green, also) and plowed under the whole property in 2016," said Moniz who also built a new road into the property to replace the one that caused so many car springs to break.
  "There is a great deal of symmetry to Hazelton and Crestwood," said Moniz. "There are only 400 yards separating the 16th on Crestwood with the fifth at Hazelton. Cornish designed both courses, and the topography is very similar," added Moniz who hired a top-notch shaper and also Tim Gerrish, who had worked for Cornish, to redesign the greens that will average almost 8,000 square feet.
  The golf tees will measure almost 7,200 yards, so it can play as a true championship course. They currently have four sets of tees. "We are going to add new tees this fall and get to 6 or 7 tees including beginners' tees that will be no longer than 200 yards. "We did this at Crestwood, and the some members are loving playing from the very front tees, said Moniz.
     "I want to make Hazelton G.C. the best public golf course in the area. We want to have tournaments and are looking forward to bringing back the course to its original glory," said a proud Moniz who mentioned that many leagues have already signed up for play in 2019.
  "Charlie Cassel is my outside manager and Anna Krajewski will be my indoor manager. We will have a full bar and breakfast and lunch will be served by the end of 2018," added Moniz. Kevin Medeiros is the superintendent, and his dad, Jim, who was the long-time superintendent at Wannamoisett and then at Stony-Lea in Brockton is now giving his son a hand.
  Our thoughts after playing last week were that the greens are great, the layout is excellent and the fairways will be better each week. The brook that runs through the course is in play on nine of the holes. With six or seven sets of tees and large greens, a nice clubhouse and a great layout, Hazelton will become a course that you will enjoy playing.