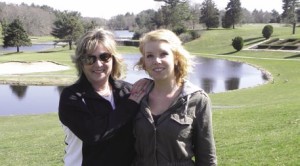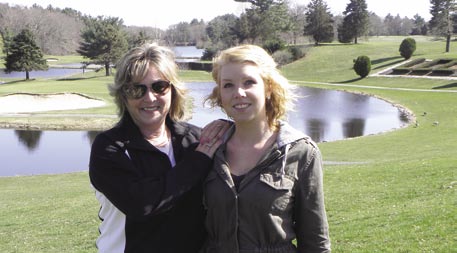 What would make a couple want to buy a golf course? Is it that they love golf? In the case of Derek and Madelyn Maksy, it was that the golf course sat right behind their home in Lakeville, was in disrepair with poor outdated equipment, lacked maintenance and was heading for foreclosure. There was talk that the land would become an industrial park.
"We actually bought the property as a business investment and as a chance to keep our own property up in value," said Madelyn. "We were not golfers at the time we purchased it in October 2011, but I love the game now," added Madelyn who proceeded to talk about a girls' golfing trip that she took last fall to Myrtle Beach.
The day we were doing the interview for this story, Derek was driving a vehicle that was moving a building on property and not available for an interview. Previously, he had told me about what a great adventure it was to own a golf course. "It's a lot of hard work, but the rewards are wonderful. Our goal is to have the golfers feel that they are on a day of vacation while they're on our golf course." Madelyn added, "The best part of owning is that everybody is happy here."
As golfers came off the course they talked about what a great improvement there has been here in the last three years; and those improvements continue on. "We just hired a head professional, Mark Kitchen, a PGA class A pro, who played his first round ever at Lakeville. He will be giving lessons, clinics, starting some golf camps and helping with the overall running of the course," commented Madelyn.
The movement of the building was to provide space for a 60-foot pavilion for outings. There is a restaurant with a full menu and bar open seven days a week. They have a sunset deck just off the restaurant where people can watch fellow golfers play the ninth and 18th holes. "Randy Botelho is the chef and doing a great job," said Madelyn who has owned Uptown Realtors in Middleboro for 25 years. Derek is an electrical supervisor and also harvests his own 12-acre cranberry bog behind their home.
Lakeville Country Club has the largest and longest-tenured men's league in Massachusetts that plays every Tuesday afternoon. Tee times are available seven days a week, but Tuesday they must be before noon if your playing 18, and 2 p.m. if you're only playing nine.
The golf course is a fun layout. There are four sets of tees that range from 6,335 yards to the forward tees of 4,863 yards. The course is lined with tall pines and oaks and very picturesque. The 16th is an island green par three that is the signature hole. The 18-hole is a great finishing hole, a dogleg left over a pond to the elevated green.
The Maksy's have done a great job. Their investment is looking better and better all the time, and you will have a fun time playing their course. You can call the course at 508-947-6630 or visit their website at www.lakevillecountryclub.com.