Imagine a golf trail across Florida? The Grand Golf Resorts of Florida, a Salamander Collection, has launched one of the country's best golf packages with the creation of the Legends of Golf Trail. We had the opportunity to play golf all nine courses on this Florida Trail last winter with the Golf Travel Writers Assn.
The Trail combines three of Florida's grandest golf resorts under the management of Salamander Hotels and Resorts and gives golfers the opportunity to play courses designed by Arnold Palmer Jack Nicklaus Tom Watson and Larry Packard– three legendary players and all four considered excellent golf course architects.
Sheila C Johnson, Salamander's owner and CEO, who has owned and operated Innisbrook Resort since 2007, announced the formation of the Grand Golf Resorts of Florida last year. Salamander has assumed the management of Reunion Wyndham Grand Resort in Orlando and Hammock Beach Resort in Palm Coast. "Florida is the world's greatest year-round and most accessible golf and vacation destination and we are creating an experience unlike any other," said Johnson.
In addition to the nine courses there are 1,250 spacious suite accommodations over 200,000 square feet of meeting and function space, 25 swimming pools, 17 tennis courts, 16 restaurants and numerous other activities. The best part may be that there is only a 90-minute drive between each of the multi-course locations.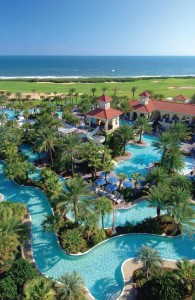 We started our golf trip at Hammock Beach Resort. Located less than an hour south of Jacksonville, the resort is spectacular with beautiful accommodations, excellent restaurant and two wonderful golf courses. Our first course was the Conservatory Course located 10 minutes from the resort near Route 95. This Tom Watson-design is the longest in the state with dramatic elevation changes and undulating greens. With five sets of tees, and 12 teeing choices all rated and sloped, you can pick the right distance for you and your playing partners. Brad Hauer, Director of Golf at Hammock Beach Resort talked about the 12 sets of tees. "Everyone should have the opportunity to play a course that fits their length. It was relatively easy to combine distances from our five tee boxes to increase the number of tees to use," said Hauer. There are 140 bunkers (three are sod-faced), and it has the feel of Scottish designs favored by Watson.
The award-winning Ocean Course, a Jack Nicklaus Signature Design opened in 2000 has six holes with views of the Atlantic Ocean, including three holes that play right along the water. The final four holes are called the "Bear Claw" with sweeping views of the coastline. You will find many doglegs over water.
With luxury villa and condominium accommodations overlooking the Atlantic, you might be tempted to just stay in your room and enjoy the vista. Don't. There is so much more to do than just golf at the resort. There are eight tennis courts, a 200-slip marina with kayaking and fishing on multilevel pool complex and large spa and fitness center and a beautiful beach along the Atlantic Ocean. If you can't get enough golf, there is a great practice area and teaching facility at the resort.
Next stop was Reunion Resort" in Orlando. It was an easy 90-minute drive down I4 from Hammock Beach and we had a tee time scheduled that afternoon. As you arrive at the resort, you see a large high-rise hotel, but unlike standard hotels each is a multi-bedroom villa. There are also three-to-eight bedroom private estate homes on the property for rent to larger-sized groups. It's the only place in the world where you will find signature design courses by three of golf's greatest legends: Jack Nicklaus, Tom Watson and Arnold Palmer.
Each of the three courses is quite different. Jack Nicklaus is known for his bunkering, but there are more bunkers on the Tom Watson course. The ninth hole on the Watson Course has bunkers everywhere, but when you get up to the green and look back, you don't see any of them.
My favorite of the three was the Palmer Course with its wide fairways and quite a bit of water that provided a great many risk/reward shots. The Watson Course plays fast and firm with large green complexes. It is also the tightest of the three and intertwines with the Palmer course. On the Nicklaus Course you will find many short, tricky holes including the first. You will certainly get three very distinct rounds of golf at Reunion Resort.
If the three courses are not enough, Reunion Resort also includes the Annika Academy where Annika Sorenstam and her sister, Charlotta, run a world-class teaching facility. Area attractions include Walt Disney World, Universal Orlando, Sea World, and you can see just about all of them from the rooftop lounge where we watched nightly fireworks displays from Disney. This resort is great for the whole family as well as just golfers.
Our last stop was Innisbrook, a Salamander Golf and Spa resort. We had written about this resort and spa a few years ago and it was even better than we remembered. With 550 rooms and villas, it is the largest of the Legends of Golf Trail resorts and also has more golf courses.
It was an easy 80-minute drive west on I4 to Innisbrook that is a half-hour from Tampa International Airport. Florida is one of the few states that rental car companies will let you drop a car at a different airport without adding fees. Thus, you can fly into Jacksonville and drive southwest or vice versa, fly into Tampa and drive northeast to Jacksonville, if you are lucky enough to visit all three resorts.
Larry Packard, who just turned 100, designed all four courses on the property. The most famous one is the Copperhead Course, home to a PGA Tour event every winter. It is so much fun to play a course and then watch the pros play it during the tournament. Too bad we can't play it the way they do. Unlike most of Florida, Copperhead has many uphill and downhill shots. With tree-lined fairways, quite a few water holes and sloping greens, you will feel just like the pros when you play it. Don't go back to their tees, though.
My favorite of the four courses is the Island Course. As the name suggests, there is water on many holes. With large ospreys flying overhead and some narrow fairways, the Island Course is truly memorable. The ninth and eighteenth holes require shots over water to the green. Make the first and you'll enjoy lunch at the excellent restaurant at the Island's clubhouse, and make the last and you will regale the troops at one of the fine restaurants and pubs on property that evening.
The other two courses are the North and South courses. They are mirror images of each other, and both are fun with many distinct holes. The North Course has the lowest slope and rating, but the holes are fun and many require exact shots over water.
On the South Course you will see some beautiful homes and also some beautiful holes. The twisting par 5 second with an approach over a pond will definitely get your attention. It is the number one handicap for good reason. The par 3 third then goes back over that pond to a wide green with a yawning bunker in front.
There is also a golf school at Innisbrook. There is a separate double-ended lighted driving range in the middle of the property, and it is always crowded. Dawn Mercer, Director of Instruction at Innisbrook has a very knowledgeable staff giving lessons.
Packard's Steakhouse overlooking the Copperhead Course serves wonderful meals. There is also a pub and a grill on property. With four golf courses, six pools including a water park, the five restaurants a great spa, nature trails, tennis courts and its location 10 minutes from the Gulf of Mexico Innisbrook is a fabulous resort.
We played nine courses in seven days. It was an unbelievable golfing adventure. The Legends of Golf Trail has its own scorecard where each course provides two of the holes. I have that scorecard saved as a memento of one of the best golf trips I've ever been on. The accommodations at each locale were truly first-class, and the food at each stop caused this writer not to lose weight even playing 162 holes of golf in seven days.
If you get to stay and play at any of the three resorts, you will have the vacation of the year. If you stay at two of the resorts you will have the vacation of a decade, and if you are fortunate enough to play the whole Trail it will be the golf trip of a lifetime.
You can get more information about the Legends of Golf Trail and the Grand Golf Resorts of Florida at www.GrandGolfResorts.com or calling 855-294-5906.