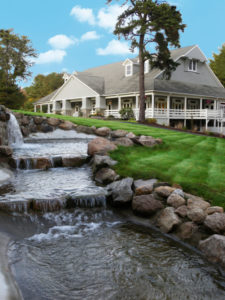 The area that runs from Washington D.C. to Boston is often called
the Northeast Corridor, and as a longtime resident of a state in the heart
of that region, I rue how overpopulated and heavily developed it has
become. And don't even get me started about the traffic, or how much
effort it now takes in most of these parts to enjoy the outdoors.
Consequently, I take particular pleasure when I have the opportunity to
venture to places that harken back to quieter and much more pastoral
times – and remind me of the days when getting back to nature here was
as easy as walking out the back door of my home with a .20 gauge and a
pocketful of shells to prowl nearby woods for ruffed grouse and
woodcock. Or working a local pond with rod and reel in an effort to
induce largemouth bass to hit the lures I cast to the edges of the lily pads
under which they lurk.
One such place is The Preserve at Boulder Hills in southwestern
Rhode Island, and during a recent visit I marveled first at its location, for
it is just minutes from I-95, that busiest of Northeast Corridor highways,
and only half an hour's drive from Providence, one hour from either
Hartford or Boston and roughly 170 miles form midtown Manhattan. It
is only a dozen miles or so from some of Rhode Island's finest beaches.
Next, I admired the classic New England setting, with stands of pines,
birches, oaks and maples throughout the nearly 1,000-acre property
which has 2,550 acres of national forest in the backdrop; rugged rock
outcroppings and kettle ponds formed millennia ago by receding
glaciers; and expansive meadows with calf-high native grasses.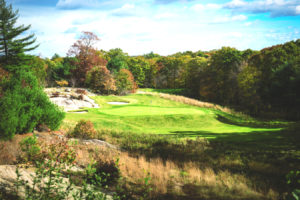 Then, there are all the things a person can do here. From sporting clays and
European-style tower shoots to good old-fashioned walk-up hunts for
pheasants and chukkar partridges. Trout and bass fishing is available in
each of The Preserve's six ponds, and the 28 miles of trails that winds
through the grounds can accommodate mountain bikers, snowshoers,
cross country skiers and those who are happy just to take afternoon hikes.
Tennis may be played on grass or clay courts, and golfers will find
lots to like about the executive, par-3 champion status course designed
by Robert McNeil, with each of the 18-holes providing something fun
and interesting for low handicap players as well as beginners.
It felt like a little bit of heaven to me, and as I played the golf
course one morning and then enjoyed an afternoon round of sporting
clays, I could not help but think of how nice it would be to have a place
to hang my hunting vest in one of the six cabins that have already been
constructed for members here, and be able to head to the woods or the
water whenever the spirit moved me. Just like I used to do.
  The Preserve is the brainchild of Paul Mihailides, a one-time
carpenter turned real estate developer who also possesses a passion for
hunting, shooting, and fishing. The fifty-something native of the
Ocean State is excited about what he is creating. "We consider the
Preserve to be New England's only four-season sporting retreat," he
says. "And we see it as a legacy property where families and their guests can enjoy a variety of outdoor experiences in an extraordinary setting,"
Mihailides says.
He goes on to describe some of the amenities that in his mind
makes The Preserve truly special. There are the cabins, to be sure, as
well appointed and comfortable as they are rustic. But he is also going to
provide members with what might be best described as "experience
housing," with Mongolian yurts, "hobbit houses" that are partially
underground, and tree houses. And he has laid out by the clubhouse an
extra golf hole on which players can practice and also settle matches
that are all square after 18 holes.
His goal is to have approximately 150 member/home owners, and
he likes the idea of the retreat being very much a place for families, with
people being able to pass on their holdings to their heirs. The main
lodge is a 25,000-square foot clubhouse, which features high ceilings,
luscious wood beams and trim and crocodile, with ostrich and shark
skin on some of the walls. Also on property is a fully appointed sporting
shop and the longest public indoor underground range in America. The
Sporting Shoppe and Range is a purveyor of fine outdoor clothing and
accessories as well as ammunition, handguns, premium fishing reels,
shotguns and a host of other outdoor equipment to meet any
enthusiast's needs.
Either way, The Preserve at Boulder Hills promises to provide a
singular experience.
Editor's Note: This story was edited from a story written by John Steinbreder for Sporting Classics after a visit to the Preserve in Wyoming, R.I.