Prince Edward Island Golf—Challenging and Very Enjoyable
By BRUCE VITTNER
Prince Edward Island calls itself The Gentle Island in much of its literature. It makes sense when you consider there are only about 135,000 residents and there are certainly a lot more potatoes than there are people.
What PEI does have is 30 golf courses—many which would be in the Top 10 in any state, province or region. Imagine 30 golf courses with such a small population. We think that Rhode Island has a lot of courses, and we have a million people.
Many publications have rated PEI the top golf destination in Canada with good reason. The four courses we visited during this stay offered wonderful scenery, great conditioning, challenging layouts and warm and friendly staffs.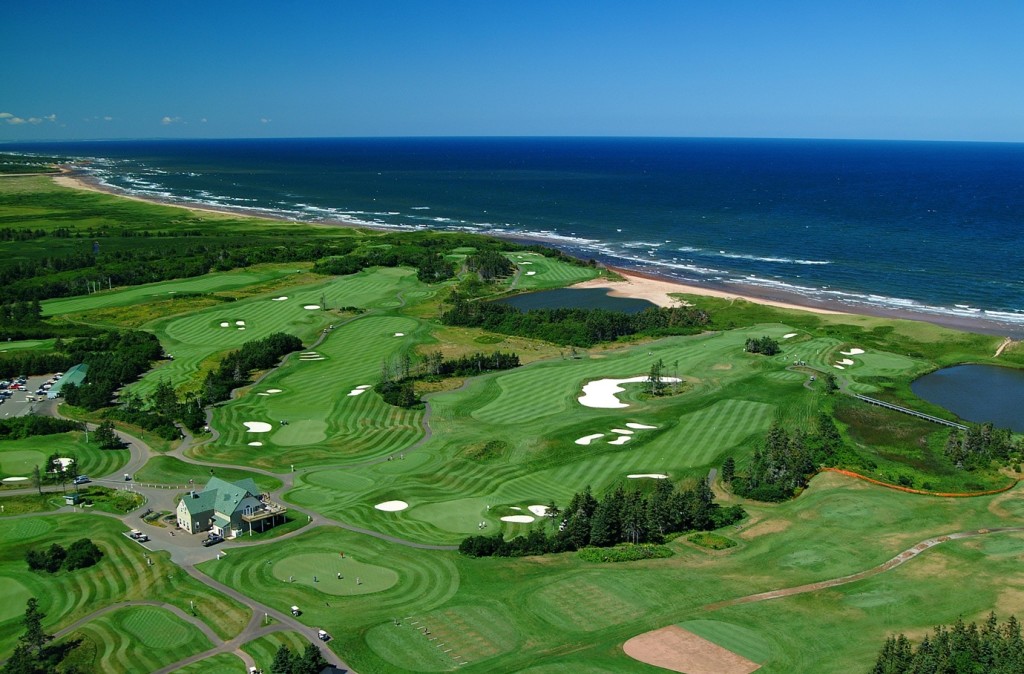 Prince Edward Island, unlike Rhode Island, is an island accessible only by traveling over water. It used to be the only way to get to PEI was by ferry. The Confederation Bridge linking New Brunswick Province—and nearby Nova Scotia—with PEI opened in 1997 after four years of construction. It is almost nine miles long and is the longest bridge over water that freezes. The drive from Providence is eleven hours.
The good part is that you don't pay when crossing from New Brunswick. Maybe you should just stay in PEI and never pay. Once you see the quality of golf courses you'll be tempted to spend a long time.
Another way to get to PEI is to fly from Boston. Air Canada, Delta and United regularly fly into Charlottetown. There is also a direct flight from NYC. The airport's website is www.flypei.com and another website you might use is www.golfpei.ca/howtogethere.
Our previous visit to PEI was part of a Canadian package that included golf in both PEI and Nova Scotia and we took the ferry from Portland, Me. and played up through Nova Scotia and took a short ferry ride from Pictou, NS to PEI.
We got the feeling of being back in the 1950's when we went to PEI. My wife has written a sidebar story about the places to stay and things to do in PEI besides golf. She goes on occasional golf trips with her hubby, and she rates Prince Edward Island very near the top of her list.
What makes it even better is the golf courses. On our first day of golf we played Green Gables G.C. Designed by the legendary Scottish architect Stanley Thompson, this course opened in 1939 and is part of Prince Edward Islands National Park. Recently updated by Canadian Thomas McBroom who added many bunkers, the routing over rolling hills and large mounding makes for a great walk in the park. Bent grass tees, greens and fairways with blue grass and fescue borders give the course a New England feel with many risk/reward holes. The par 5 third and par 4 15th offer wonderful views of the gulf The par 5 18th is a great finishing hole as it wends its way back uphill to the clubhouse. The course has large greens and the bunkers make you nervous.
That afternoon we ventured to Glasgow Hills. We only played nine holes but traveled the whole course. Hills is the right part of the name as the course sits on top of a large hill with wonderful vistas throughout the whole back nine (the side we played). Many of the holes play downhill, especially the long par 3 13th. Alas, you have to get back up that hill and number 17 is a true bear of a hole. Your drive is out of a shoot to a downhill fairway, and then up a steep hill.
What might be one of the highlights of the day is that each golfer receives a complimentary bucket of PEI mussels upon completion of the round at the course's Piper Restaurant.
Our next day of golf in PEI was our favorite. We played The Links at Crowbush Cove. Golf Digest rated it as Canada's Best New Course in 1994 when it opened, and in 2005 ScoreGolf rated it the Best Conditioned and Most Scenic Course in Atlantic Canada. Sitting right next to the Gulf of St. Lawrence, the views are wonderful. Make sure you walk up to the championship tee on number 11 to get a look down to and along the water. Look back once you get to the green on number 16 for a great view of the shoreline. Number 11 might be one of the most difficult par 5's we've played and the very short 17th will make you shutter. Thomas McBroom designed this course owned by the province, and he moved a lot of earth to create very scenic holes. Our host for the trip, Mark McLane from GOLFPEI, says that many people consider this course their favorite in all of Canada.
The next day we visited Dundarave G.C. and its adjacent course Brudenell River G.C. in Cardigan on the eastern side of the island. Dundarave is a Golf Digest four-star course designed by Dr. Michael Hurzdan and Dana Fry (who also designed Shelter Harbor in Charlestown, R.I.). The trademark red sand bunkers are everywhere. Red sand is prevalent on PEI because of a high concentrate of iron oxide in the soil, much like Georgia, and I think the architects brought in most of the island's supply. There are five sets of tees, but don't go back to the tips unless your initials are RM.
Dundarave, named after a castle in Scotland, hosted the 2006 Legends of Golf match featuring Jack Nicklaus and Tom Watson. Our favorite hole was number 8 called Emerald Altar (all the holes at many of the courses in PEI and Nova Scotia have names, similar to Scottish courses). You hit from an elevated tee over a ravine to an angled fairway with seven bunkers (they're everywhere) protecting it. Pick you landing area carefully and you'll be rewarded with a short approach to a large green with the river in the back. The course is difficult but memorable, and you almost never see other players as the course stretches for miles.
Brudenell River, considered the most popular course on the island by many residents of PEI. It is an easy walking course with six par 3's, six par 4's and six par 5's. The fairways are wide with many lakes and ponds on the property. The prettiest hole is number 10, a par 3 over water with the wide Brudenell River down the left side.
PEI has many nine-hole courses with excellent ratings. Golf packages could easily include an 18-hole course coupled with a different nine holes in the afternoon. We didn't get there, but Fox Meadow Golf & C.C. is host to the Fox Golf Academy that is rated one of the best golf schools in Canada. It is located just outside of Charlottetown and they were offering wonderful packages in the local newspaper.
Four of the better courses in PEI, Crowbush Cove, Dundarave, Brudenell River, and Mill River, are owned by the province. The largest golf packages company is the non-profit GolfPEI, and bookings can be made through them at 1-866-GOLF-PEI or on their website at www.golfpei.ca.
Once you go to Prince Edward Island you will want to go back. We did! Fine golf, very friendly people and a feeling of being back in a time when living was easier.
Bruce Vittner is a member of the Golf Writers Assn. of America and the Golf Travel Writers of America and can be reached at bruce@snegolfer.flywheelsites.com.