We have had the opportunity to visit Scottsdale for media trips most every winter. What a delightful getaway from the cold New England weather. We're running out of adjectives to describe this Mecca of golf, entertainment, sight-seeing, outdoor activities, fine dining and spectacular desert and mountain views. Thought that GLORIOUS fit.
Golf Digest rated Scottsdale as the 7th best destination in America for golf trips, but in a related poll rated it the third best for golf trips for couples. Either with your buddies or significant other, you can't go wrong by picking Scottsdale for a chance to get away from that white stuff, that turns brown soon after falling from the sky.
There are over 50 golf courses to choose from ranging from the ones you see on television hosting major events like TPC Scottsdale and Grayhawk to some of the municipals that are fun to play and won't break your wallet. Over the years we have played most of the courses and find that each offers something special. Plus, you are playing golf instead of shoveling snow.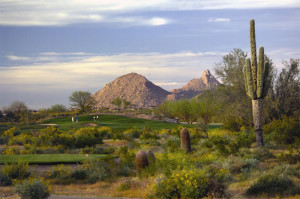 Last winter we stayed at the Fairmont Scottsdale Princess for five days and the Hotel Valley Ho for three (see related stories on page 35). The golf courses package was tremendous as we played TPC Champions Course, TPC Scottsdale, SunRidge Canyon, Grayhawk's Raptor Course, McDowell Mountain, ASU Karsten Course and The Raven Golf Club in Phoenix. What a package! Do not think it can get any better.
Our first stop was TPC Champions Course. Sitting right across the street from its more famous big brother, the Champions Course offers a challenging layout with five par 3's but can still measure over 7,000 yards from the back tees. Don't go back there, the course is much more fun from a shorter distance. The 15th is a unique dogleg left that is drivable if you can carry over the huge sandy area. The par 4 finishing hole has water left and a huge green. The course makes a great warm up before crossing the road.
The Stadium course is aptly named. The famous 16th hole that you see on television with the 25,000 fans screaming, hollering, cheering and booing is a tough par 3 to an elevated green with bunkers left and right. The stands they build for the tournament actually looks a lot like Fenway Park, alas the Stadium. My long putt that went in for birdie still stays in my dreams nine months later.
The 17th is drivable (for the big guys), and the 18th has a pond left and an uphill shot to the huge green with a steep slope. It's the number one handicap hole for a reason. The Fairmont Scottsdale Princess sits right next to about three of the holes, so you might see your room as you try to carry arroyos and avoid the cactus. A must play.
As befitting a Tour stop, TPC has a wonderful practice area, and we were able to get a club fitting from Cool Clubs, the world's leading custom club fitting company that also has a fitting center at Sterling Farms G.C. in Stamford, Connecticut.
That evening we had a dinner hosted by GolfLogix, a Scottsdale-based world leader in golf GPS technology with the number one app for golfers with millions of downloads. The next day we were off to SunRidge Canyon G.C. for the Jim McLean Golf School followed by a great day of golf.
SunRidge Canyon might have some of the most picturesque holes in the Sonoran Desert. The words "ridge" and "canyon" are perfect for this course as in plays along ridge lines and dives into and up out of canyons. Might need a few golf balls, but it certainly is memorable.
The next day we were off to Grayhawk Golf Club just north of Scottsdale. There are two courses on site, Raptor and Talon, as well as the Stan Utley Short-game Golf School. We were fortunate to get a group lesson from Utley who works with many of the top Tour players.
Grayhawk is perfectly manicured, and the Tom Fazio design was truly thrilling to play. They have hosted many Tour events in their 16-year history. You will love the 18th hole on Talon if you can avoid the water on the left side. As well as the course being memorable, you need to try the breakfast burritos at Grayhalk's Mojo Café followed by a great meal at Isabella's Kitchen that looks over the course after your round.
The Fairmont Scottsdale Princess had done a great job hosting this media event and many writers headed to the airport. OB Sports Golf Management, with headquarters in Scottsdale, and manages premier golf courses throughout the United States offered some writers a chance to extend their vacation and stay at three of the courses that they manage. Easy decision.
We had the opportunity to play on three of the many courses that are managed by OB Sports and stay at the Hotel Valley Ho that does some of the packaging with this golf management company.
Our first course was McDowell Mountain. This course was formerly known as Sanctuary Golf Course and is on land owned jointly by the Federal Bureau of Reclamation and the City of Scottsdale. Phil Mickelson and Steve Loy acquired the operating rights to the course a few years ago and have undertaken significant course enhancements and renovations including a beautiful new clubhouse.
The renovations included reshaping to improve playability, widening of fairways to make holes friendlier and adding over 460 yards to the back tees. We didn't need that change! With five sets of tees ranging from 7,072 yards down to 4,880 yards for the forward tees, there are plenty of choices.
The course has an interesting design. Holes 1, 2, 9, 10 and 18 form a horseshoe around the huge practice facility and the rest of the holes run out and back along the main power lines that feed Scottsdale. It is much prettier than it sounds with huge waste bunkers and great views into the valley.
That night we checked into the Hotel Valley Ho. Built in the middle of the 1900's with original and classic mid-century design, this hotel reopened in 2005 after an $80 million renovation.
Originally a hideaway for celebrities and located in the heart of Downtown Scottsdale, the renovation created The Tower, an elite luxury hotel within a hotel. The Tower has 42 luxury rooms as well as suites with full kitchens and some are offered for sale. With modern conveniences and great location, the hotel has wonderful retro charm.
Our next day took us to the Karsten Golf Course at Arizona State University in Tempe, but just five miles from the hotel. Opened in 1989 and designed by Pete Dye as a course to be used by the ASU golf team. Phil Mickelson was a graduate of ASU you might remember.
No tax dollars or university funds were used in the project and over one million rounds have been played there including 52,000 by the men and women's golf teams at ASU. The golf program's for both men and women have had great success and looking at the training facilities it is easy to see why.
The course is a typical Dye with mounding, risk/reward holes and some diabolical greens. It is very flat which is unusual for the region. Holes 9 and 18 are mirror images of each other as a pond sits between the holes and 9 winds left of the pond and 18 winds right and has a green that sits at the end of the pond. A great finishing hole and one that will decide many matches.
Our last course was The Raven Golf Club in Phoenix. We had written about this course about a decade ago, and our thoughts were that this course could pass for a New England course as it has over 6,000 pines trees that line the fairways. The course was closed for a while and reopened last October after a comprehensive renovation.
The conditioning on the course was magnificent. There are native grasses that ring each tee box, the bunkering is well placed and some are quite deep and the greens are huge and undulating. The 18th hole is a long par 4 with a pond to the right and in front of the green. Be careful.
Alas, this magical trip was over. What memories of great golf, wonderful accommodations and scrumptious food. Who said golf writing isn't a good job?
Useful numbers and websites:
Scottsdale Convention & Visitors Bureau, www.scottsdalecvb.com 800-782-1117
Fairmont Scottsdale Princess, www.scottsdaleprincess.com 480-585-4848
Hotel Valley Ho, www.hotelvalleyho.com, 480-248-2002
Scottsdale Information Guide, www.experienceScottsdale.com, 800-782-1117