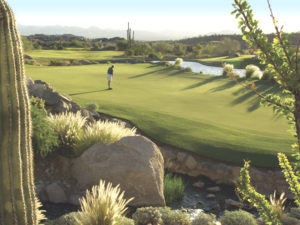 You know that you have come to a much different place than New England as your airplane descends into Sky Harbor Airport in Phoenix, Ariz. As you peak out the window you see all these little fingers of green among a tan background. Yes, you do see the patches of blue, but you know they are backyard pools and other water sources.
What are those little green fingers everywhere, especially to the east of the airport? If your golf clubs are in the belly of the aircraft, you know the answer and you smile. All those fingers are all those golf courses, over 200 in Scottsdale alone.
When the white stuff hits us in the winter, one of those nice places to escape to is
Arizona, and a perfect spot is Scottsdale. Scottsdale is host to some of the finest courses
in the world and was recently voted "America's Best Place to Live for Golf" by Robb
Report magazine. Over seven million visitors per year to the Phoenix/Scottsdale area are
a good indication that they are doing something right with their fine golf courses,
excellent hotels, resorts and restaurants, and that old west charm. Scottsdale is the only
city to host two PGA Tour events each year, the FDR Open in January and the Frys.com
Open in October.
The Scottsdale/Phoenix area is called the 'Valley of the Sun' with good reason. The sun
shines an average of 329 days a year there, which usually limits the number of rainouts
you might get on a golf vacation package. On our last trip there last December we wore
shorts every day.
Desert golf is unique. As you walk down pristine green fairways, the stark contrast of the
desert sand, boulders, giant cacti, tumbleweed, sandy washes, mountain views and
occasional desert animal (no, we did not see any rattlesnakes, not out in wintertime often)
are views we don't get in New England. The higher elevation and firm ground allows you
tee shots to travel much further than back home.
How do you pick which ones to play? You need help. Last December Southern New
England Golfer had the privilege of staying at the Resort Suites in North Scottsdale.
Goldman Sachs purchased resort Suites two years ago and is being run by Marcus Hotels
headquartered in Wisconsin. "We are doing a major renovation of the property including
the rooms, pools, decks and restaurant," said Dan Zollo, marketing coordinator. "We
want to provide a higher standard for our guests, and people will notice the difference,"
he added. The complex includes standard hotel rooms, but is known for their suites that
feature full living rooms and dining areas with 1,2 or 4-bedrooms. The four-bedroom
suite can accommodate 8 golfers each in their own double bed. Centrally located, it
makes a great spot for your travels to the various courses close by. Troon North, TPC
Scottsdale and Grayhawk are all within a ten-minute drive. Troon Golf, management
company for 140 high-end courses including Lake of Isles at the Foxwoods Casino in
Connecticut, has its headquarters in Scottsdale.
Resort Suites, has developed a partnership with 27 great courses at 18 properties in the
area called the "Golf Bank" which allows guests to get preferred tee times,
complimentary buffet breakfast and reduced rates at these excellent courses. Last
December we played both Troon North courses, the Pinnacle and the Monument. The
courses were recently split up and you now play half of each of the old courses. The
views are spectacular and the conditioning is superb. We also played Talking Stick and
Legend Trail, two excellent courses that are listed in the top places to play in Scottsdale.
The best asset of the Golf Bank is that it completely removes the element of surprise from
a guest's stay with us. At Resort Suites, the Professional Golf Vacation Planners know
the layout of each course, the condition it's in, as well as all the architectural elements –
so it becomes easy to custom-fit each golfer to the courses they'll enjoy most.
"Most resorts and golf packagers operate as a third party,'' noted Zollo. "At Resort
Suites, we take a noticeably different approach by always being on-site and personable.
We meet our guests face-to- face, because we want to get to know them and make sure,
the whole time they're here, that the vacations we helped them plan are being fulfilled
with no surprises, no disappointments, and their complete satisfaction.'' Resort Suites has
booked over 500,000 rounds since it opened in 1987.
"The Golf Bank offers guests the opportunity to experience every aspect of Arizona golf.
From unique desert layouts to traditional tracts, there's something for everyone in the
bank. And you can only get preferred access to these courses through Resort Suites," he
added.
Southwest Airlines has direct flights from Providence to Phoenix daily. We left
Providence at 5 p.m. and were sitting in the lounge at Resort Suites at 9 p.m. Mountain
Time. Not bad! Sky Harbor Airport is a twenty-minute drive from Resort Suites. You can
reach Resort Suites at 888-222- 1059 or on the web at www.resortsuites.com, or you can
contact the Scottsdale Convention and Visitors Bureau at 800-782- 1117 or
www.scottsdalecvb.com. Sure beats looking at that white stuff in New England all
winter.