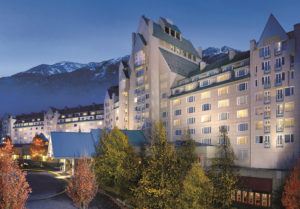 There are no words to describe the beauty of the drive from Vancouver that will take us to our Whistler Mountain destination. The scenic mountainous road that brings us in and out of the clouds is surreal, and a fitting start to our week ahead. The award-winning Fairmont Chateau Whistler is located at the base of Blackcomb Mountain. To be a guest at this resort is truly one of life's guilty pleasures. In addition to its in-house health club, a Vida Spa and yoga classes, this year-round retreat offers a host of activities including fishing tours, bear tours, hiking, biking and ziplining.
This vacation offered many new experiences for me. After the first full day of exploring
the property while my husband golfed, we joined our group in the hotel lobby to embark on
an exciting adventure. We geared up from head to toe with protective clothing, which
included boots, a helmet and goggles (such a lovely look) so that we could climb a mountain
on an ATV. This is an activity not for sissies, but this is how we would get to our dinner at
the Crystal Hut at the top of Blackcomb Mountain. After our guide gave us a lesson on how
to operate our vehicles, we were off on a steep, bumpy and winding road to the top. The
dinner at the top was well worth the one and a half hour ride up. We were rewarded with a
delightful Salmon Bake, complete with a luscious dessert selection. Entertainment was also
included. What a wonderful evening!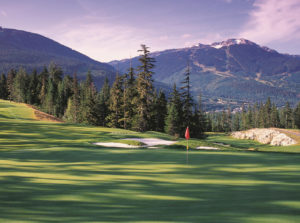 The next afternoon we had our choice-we could go bungee jumping, ziplining or enjoy a relaxing, rejuvenating experience at Scandinave Spa in town. Of course we chose the spa, a Nordic-inspired oasis overlooking mountain vistas and valleys. Good choice!
The bustling cobble stoned village of Whistler is easy walking distance from our resort; the resort shuttle runs every half hour if that is your preference. This pedestrian-only village has
over 200 shops, cafes and bars, parks and outdoor artworks. It was the home for most of the skiing, luge and bobsledding events during the 2010 Winter Olympics hosted by Vancouver and Whistler, and its iconic five interlocking Olympic rings are still there as a reminder of that special time.
Our vacation in this mountain luxury with its fine dining and all the amenities offered here
surely rates a gold star in my book. It was a vacation that I will remember forever.