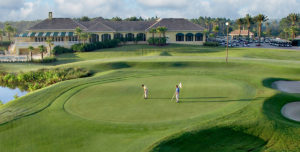 While Daytona Beach is home to the LPGA and some of the state's best courses, the World's Most Famous Beach remains one of America's most underrated golf destinations. Smart group leaders are beginning to turn their attention to this Atlantic Ocean paradise.
  Why is Daytona Beach emerging as a must-play trip? Here are five reasons your group needs to make a stop on the Central Florida coast.
Any great golf trip begins on the course and Daytona Beach more than delivers on that account. LPGA International, home of the Hill and Jones courses, anchors the area's golf offerings but is hardly alone. Halifax Plantation Golf Club, Spruce Creek Country Club and Victoria Hills are among the many outstanding courses in the Daytona Beach area.

When group leaders become comfortable with the golf course lineup, they turn their attention to value and, again, Daytona Beach comes up aces. Area hotels have countless package options –combining golf and accommodations to create the ideal itinerary for any type of trip. Whether you want to play 4+ star golf or you and the boys (or girls) want a value-priced getaway package, Daytona Beach has something for everyone.

The fun in Daytona Beach doesn't end when the final putt drops. The area is loaded with off-the-course fun. From the beach to Daytona International Speedway, there is always something to do. Start to wind down the day with a stop at a craft brewery and come dinnertime, fresh local seafood is always a favorite for land-locked visitors.

The vast majority of golf trips are taken in non-summer months, making Daytona Beach an idyllic destination for anyone in search of sunshine. Check out the average high temps during golf travel's busiest months: October – 82 degrees, November – 76 degrees, December – 70 degrees, January – 68 degrees, February – 71 degrees, March – 74 degrees, and April – 79 degrees
  Need we say anymore?
Daytona Beach is easier than ever to get to. Not only is it accessible off of Interstate 4 and Interstate 95, the Daytona Beach International Airport offers direct flights from JFK (JetBlue), Atlanta (Delta) and Charlotte (American Airlines).  Daytona Beach is also just an hour's drive from Orlando and Jacksonville.
  Everything about a Daytona Beach golf trip, from booking the package to travel, is convenient, so it might be time for you to consider a visit.