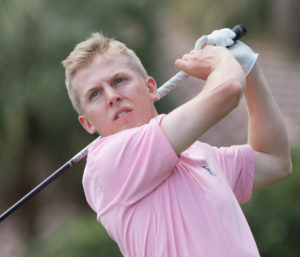 The University of Rhode Island golf team had a magical season on the strength of a top three that would equal any Rhody trio in history.  Leading the way was senior Billy Walthouse (Longmeadow, Mass.) who was a three-time All-East selection, two-time New England Player of the Year, one of just seven RI golfers to be selected to the NCAA Regionals as an individual, and one of a select few Atlantic 10 golfers who were three-time All-Conference award winners. He was also a three-time URI Golfer of the year, a three-time Quigley Award winner, and twice was named the team's top student. He was named Atlantic 10 Golfer of the Week and incredible eight times (a URI record). A multiple Dean's List honoree he is also one of a just a couple RI golfers who were two-time Golf Coaches of America All-American Scholars.  He is a two-time Northeast Am participant and played in the 2015 US Amateur.  He has spent time as one of the top 200 players in the World Amateur Golf Rankings and halfway through the Rams' season was seventh nationally in scoring.
  Gregg Burke, who finished up his sixth year as head coach said, " Billy is a uniquely focused athlete who melded incredible talent with an undeniable work ethic. When we recruited him he weighed about 115 pounds but all of it was heart. I have never seen anyone better manage his game or his way around a golf course. Clearly he had one of the very best college careers of anyone who has ever played for URI."
  Burke also had one of the East's best sophomores in Dawson Jones (Howell, N.J.) who was an All-Atlantic 10 and All-New England pick, ranking among the top five golfers in the region. He is a multiple A10 Player of the week honoree who shot an eye-popping 63 at Bethpage in the first tournament of the year on his way to a second place finish. Burke said, "Dawson had a tremendous year of us. His physical talent may be the best on the team. He and Billy were our hardest workers in the weight room and it has truly benefited Dawson. He may be the longest hitter we've ever had and now that he is learning how to manage his game better, he has the opportunity to be considered among the very best in URI history. The best is yet to come for Dawson."
  The final member of the trio is graduate student Chris Houston (Gilford,N.H.) who transferred from Penn State. A three-time U.S. Amateur competitor, he won twice for the Rams during the season. Like Walthouse, he was a two-time Golf Coaches of America All-American Scholar, multiple All-East selection, and was named Player of the Week twice at URI. "Chris is the best prepared college golfer I have ever known. He made me a better coach and brought our program to the next level with his constant raising the bar for this team.  No one will put more thought into every step of the way in his pursuit of professional golf. He has winner written all over him."
  Burke used all eight men on his roster during the season with seven of them participating in at least one of the team's four wins (this article was written before the Atlantic 10 Championship).  "We were a fun combination of seasoned veterans and really young college golfers. Billy and Chris had plenty of college experience but after that Dawson's nine tournaments a year ago led the way.  Senior Eric Marchetti (N. Attleboro, Mass.) who was the Medalist in the RI Am a year ago had only played in a handful of college tournaments. Prior to this season Jason Short (Marlborough, Mass.) had never played in college, Brody King (Tulsa, Ok.) had played just once, and the two freshmen – Burke Barsamian (Barrington Hills, Il.) and Blake DiPaola (Long Valley, N.J.) had not played.
  That didn't stop Burke's squad form having one of the best seasons ever. At one point the Rams led the nation in scoring and had three of the nation's top 100 scorers. The team amassed four wins along the way. URI ranked tops in New England for the first time in a decade and achieved its highest national ranking in 13 years.
  "It was a terrific group to be around. I think what made me proudest is that we graduated four terrific players who were in our top seven last year but we still had a better team this year. We had crazy low rounds and we had a couple tremendous last-round comebacks for wins. The 'Big Three' were about as good as any first three on the eastern seaboard. We spent most of the year ranked 2nd in the East and received a number of votes from the A10 coaches as Championship favorites."