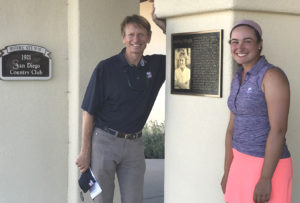 As the calendar changes from summer to fall, the weather begins to cool down here in Southern New England. That is in stark contrast to how hot youth golf is in this area. While many folks think of southern states like Florida as a hotbed for young golfers, they shouldn't overlook what is happening in this part of the country. Rhode Island and Massachusetts
continue to produce some top-notch talent and the entire country is beginning to take notice.
On the men's side of things, Will Dickson (Moses Brown), Davis Chatfield (Bishop Feehan) and Patrick Welch (Classical) are all going to be playing collegiate golf at some big-time programs. Dickson recently capped off an amazing high school career here in Rhode Island by becoming the
first player to ever win four consecutive state titles. And his fourth championship was a thing of
beauty! Dickson managed to erase a 6-stroke deficit in the final round of this year's state
championship; winning the match on the first hole of a sudden-death playoff.
Dickson will be competing in the very competitive Atlantic Coast Conference this year as a
member of the Ramblin Wreck of Georgia Tech.
Not to be outdone is Attleboro, Massachusetts native Davis Chatfield. The Bishop Feehan
product will be trading one shamrock for another, as he will also be playing golf in the ACC at the
University of Notre Dame this year. Chatfield picked Notre Dame over the likes of Boston College,
UConn, Michigan, Loyola of Maryland, Bryant, URI and Dartmouth.
Like most of the successful young golfers in this area, Chatfield benefitted greatly from playing in
many United States Challenge Cup tournaments. He also recently joined Wannamoisett Country
Club in Rumford, RI that features the most challenging course conditions in the area. It was a move
that he feels has made him a better player.
Classical's Patrick Welch is one of the more interesting case studies in the sport. The senior plays
cross-handed, not just on the putting surface, but from tee-to- green. The first time I saw Welch
swing a club I tried to emulate his swing and I thought I was going to break my wrists. But, hey,
there is no arguing the fact that it works for him!
Welch has enjoyed a decorated career in youth golf being named the 2015 Challenge Cup Player of
the Year. He also posted a perfect 3-0- 0 record as a member of the victorious U.S. team at the 2016
Junior Ryder Cup at Interlachen Country Club in Minnesota.
Welch has already committed to the University of Oklahoma where he will begin play in the 2018-
2019 season. He turned down other top national golf programs like Wake Forest, Oregon, California
and Ohio State to join the Sooners.
The young men in Southern New England aren't the only ones making a name for themselves on
the golf course. Cranston West senior Alexis Florio has taken the local golf world by storm with her
amazing accomplishments recently.
Florio won Rhode Island's first-ever girls state championship at Newport Country Club and
followed that up with an incredible showing in the 100-player co-ed state tournament. Playing from
the white tees with the boys, she was the only female to make the cut; finishing 6 th overall.
She also qualified for the U.S. Women's Amateur Tournament at San Diego Country Club in
Chula Vista, California this past summer where she eventually missed the cut in stroke play.
So a word of advice to collegiate golf coaches and those who follow the sport closely: don't sleep
on Southern New England talent. We may be looking at the next Faxon, Andrade, Quigley or
Grzebien.
Scott Cordischi has a weekly sports talk show on radio and writes a column in each issue of SNE Golfer.