The title of this story this morning was planned to be "Koepka is Tigeresque with his Win at Bethpage Black". Then it was going to be "Koepka Hangs On to Win PGA".
  What a roller-coaster ride the final day was at one of the most difficult courses in the country, especially with 35 mile-per-hour winds that blew most of the afternoon. But in the end Brooks Koepka prevailed to win his fourth major in 23 months.
  He has now won back-to-back PGA Championships to go along with his back-to-back wins at the U.S. Open Championship. Last year's Open was also played on Long Island at Shinnecock, so Koepka should probably get a key to the island.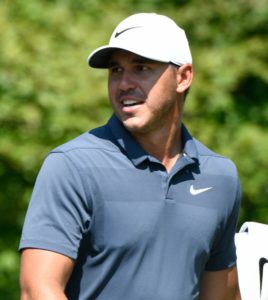 That first headline was the result of the first two days of this event as Koepka shot 63 the first day followed by a 65 the second day. The 128 total was the lowest in major golf history. In 1997 Tiger Woods had won The Masters by 12 strokes when he shot 270. His lead was seven after two days, and it stayed that way after 54 holes when he shot a 1-under 69 to keep a seven stroke lead over four competitors. It looked that Brooks had a chance to beat that record, but the tough course and the high winds had other ideas.
  One of those competitors seven strokes back was Dustin Johnson, the world number one player. Johnson managed to get it as close as one stroke with five holes to play, as Koepka started missing fairways off the tee. The wind had much to do with the problems that all players had during the round. There were only a couple of players who finished under par during this most difficult by far day of the event.
  Koepka also missed a couple of short putts, including the first hole. The headline almost changed completely to "Koepka Gives Up the Largest Lead in a Major". This reporter was happy not to have to use that headline. Koepka showed grit and determination down towards the wire. He recovered from a terrible lie after his tee shot from the 18th tee to make a saving par to win by two strokes.
  Koepka recently turned 29. He now joins a small group of golfers who have ever won four majors before the age of 30—Ben Hogan, Arnold Palmer, Jack Nicklaus and Arnold Palmer. Not a bad group to be a part of! Who do you think will be the favorite to win next month's U.S. Open at Pebble Beach?