Golfing and Cruising-Bermuda is Perfect
My wife and I often say that the best vacation we ever went on was a cruise to Bermuda in 1996. She liked it for the great food, beautiful beaches, and wonderful views. My favorites included all of the above, but also the golf.
There are no traffic jams on cruises. There is a casino located right where you are staying that has table games and slot machines (no ride down Route 95 needed). There is a fitness center with yoga and cardiovascular classes and also a walking track. Entertainment is provided every night with Las Vegas revues and dancing. You can even hit golf balls off the back of the ship.
Wonderful meals are provided 24-hours a day. We're going to have to do a lot of exercising to work off those great meals.
Bermuda has eight golf courses on its 22 square miles of land, making it the country with the most golf per acreage in the world. Golf was introduced to the island in the late 1800's by the British soldiers who were stationed there. The courses offer wonderful views and challenging golf, and many of the 'rich and famous' have made Bermuda their golfing destination. Robert Trent Jones, Charles Blair Macdonald and Charles Banks are some of the famous architects who have designed courses on Bermuda.
When we went we played St. Georges and Castle Harbour (now called Tucker's Point). Tucker's Point was one of the most magnificent courses I had ever played. The view across the harbor from the first hole is one you will not forget. The course has severe changes in elevation, often more than one-hundred feet on a hole. The hibiscus, oleander and periwinkles that line almost every hole and bloom all year make the scene beautiful even if one leg is usually higher or lower than the other as you hit your fairway shots.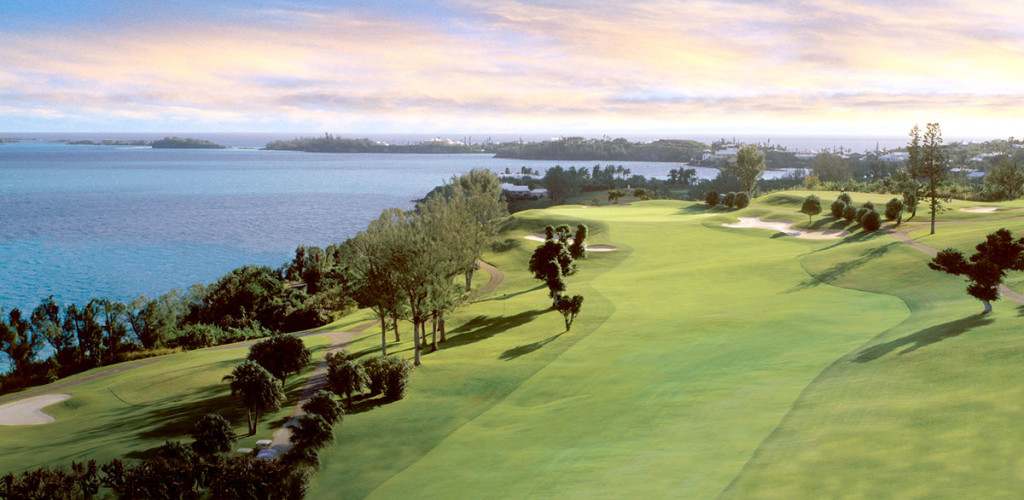 St. Georges was a shorter course, measuring only 4,043 yards. It sits on the second highest hill in St. Georges and the views are spectacular. The length is similar to Firefly Golf Course in Seekonk, MA. Both courses have St. Augustine grass, what we call Bermuda grass. Once you get used to the graininess of the grass the putting is excellent on both courses.
As we traveled around the island we visited two other courses, the Belmont (now called Belmont Hills) and Ocean View. Belmont Hills was closed for a year for renovations but is now reopened and is supposed to be excellent. It is a par 70 that sits on the hill above Hamilton harbor. It was pretty in 1996, so I can't wait to play it this year. Ocean View is a nine-hole par 35 course measuring 2,819 yards. It is owned by the Bermuda Government and is picturesque and quite challenging. Mid Ocean is the most famous course on the island, but it is extremely private. You must either play with a member or be introduced by one, and I couldn't find a member. If you can get on it, folks say you will be playing one of the best courses in the world.
A course in Bermuda that is rated one of the best and one that you can play is Port Royal. Located right on the ocean, Port Royal is also owned and operated by the Bermuda Government. It was designed by Robert Trent Jones, and according to Don Paulhus of Rumford, it is the nicest course he has ever seen. It measures 6,565 from the tips and plays to a par of 71. The par 3 sixteenth juts out into the Atlantic and is one of the most photographed holes in the world. According to Maria Dodson of Global Excellence Travel in Warwick, "The people walking off the 18th all said that Port Royal was a tough but wonderful experience."
Another course near the western side of the island is the Southampton Princess Golf Course. It is an 18-hole par 3. Golf columnist and writer Ben Wright said it is the prettiest par 3 course he has ever played. There are 60 bunkers and many elevation changes on the course. What makes this a great place to play for cruisers is that it only takes two and one-half hours to play.
The last course on the island is Riddell's Bay. It is the oldest course and also the flatest. Its tight fairways and narrow greens make it an excellent challenge as it measures 5,588 yards and plays to a par of 69. It is also a private course and member introduction is necessary.
You can make tee times well in advance. The Bermuda Golf number is 441-234-GOLF. You can go online to www.bermuda-online.org/golf to get information about all of the courses.
Back to the cruising. Royal Caribbean's Nordic Empress sails weekly to Bermuda from its port in New York City. The ship leaves New York every Sunday at 4:30 p.m. and arrives in Bermuda on Tuesday at 1 p.m. They dock at King's Wharf which is right near Port Royal Golf Course and the Southampton Princess for two days; and then travel to Hamilton, which is close to Belmont Hills Golf Course and Ocean View. The ship leaves Hamilton at 1 p.m. Friday and returns to New York at 8 a.m. on Sunday. Seems like the perfect setting for two rounds of golf and wonderful accommodations and food.
Bermuda is an expensive island. Golf, food, and accommodations are very expensive, but cruising is a wonderful deal. You have an excellent place to stay and entertainment is provided. The meals are wonderful, and you have easy access to the golf courses. We are going in October and I can't wait.